Force / Torque sensor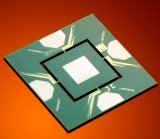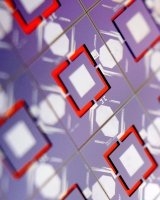 During the European project SMErobot™ Fraunhofer ISIT has developed a 6 degree of freedom force and torque sensor for the robotic industry. Sensors available today that can measure forces and torques in all three axis are quite expensive and are therefore not often used. The use of Microsystem technology for this sensor allows a cost efficient mass production.
The sensors will be manufactured using a bulk micromachining technology and will be assembled with a flat steel transducer. A patent was filed for the transducer that transfers the forces and torques to the silicon sensor.
Technical Specifications:
Two different sensors were designed: a small one to measure forces up to 10N and torques up 50Ncm and a larger one for forces up to 100N and torques up to 500Ncm.
Applications:
The sensor was mainly designed for lead-through programming, but the sensor concept can be implemented for process force control too. In addition it can be mounted to robot arms and work as an overload protection for the robot and in future such a system can reduce the harm of a collision with a human worker.